It's not surprising that Washington, DC student tours are our most popular — after all, our nation's capital offers historical, political and cultural lessons at every turn. We spend a lot of time exploring unique things to do in D.C., and we wanted to share our favorites. From tried and true favorites to off-the-beaten path gems, these sights are sure to leave you inspired.
Tried and True Favorites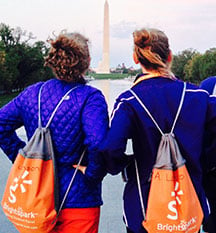 The National Mall
From iconic governmental buildings to memorials and museums, Washington, DC's most famous attractions are all located in this easily walkable, 300+ acre park. The best part? Anyone can visit the National Mall and its museums for free.
Government Buildings
U.S. Capitol
The White House
Monuments
The Washington Memorial
Lincoln Memorial
Martin Luther King Memorial
Franklin Delano Roosevelt Memorial
Vietnam Veterans Memorial
The World War II Memorial
Korean War Memorial
National Museum of American History
National Museum of Natural History
National Gallery of Art
National Museum of the American Indian
National Air and Space Museum
Arlington National Cemetery
Filled with the casualties and deceased veterans of American conflicts spanning back to the Civil War, the cemetery's most famous sights include Women in Military Services for America Memorial, John F. Kennedy's "eternal flame" and the Tomb of the Unknowns.
Visit the Newseum
This seven story museum highlights the history, logistics and technology of journalism with stunning interactive exhibits. Check out Today's Front Page Gallery, which presents daily front pages from over 80 international newspapers, and learn about the variation in press freedoms around the world. In addition to featuring five theatres that play films about news history, the museum is also home to the largest collection of Berlin Wall sections outside of Germany.
Off the Beaten Path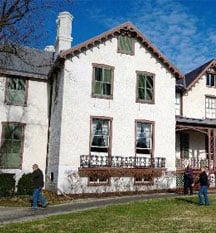 Image: tripadvisor.co
President Lincoln's Cottage
For President Lincoln, this Gothic Revival cabin was a favorite getaway from the heat and political pressure of downtown Washington. It was also the location where the 16th president wrote the Emancipation Proclamation. Collections and exhibits reveal the private side of this president and family man with original and unexpected possessions, including his favorite pair of size 14 house slippers.
Old Town Alexandria
Just down the Potomac River from Washington, D.C., this historic Old Town was laid out in 1749 and is filled with boutiques, restaurants, antique shops, theaters and historic marketplaces. Take a ghost tour to find out legends, folklore and colonial history of the city George Washington once called home. Stop by Pop's Old Fashioned Ice Cream Company for homemade ice cream in a classic parlor environment.
Located on the Potomac River, right off the shores of Washington, D.C.'s central area, this restored forest is perfect for anyone needing a retreat for contemplation. The island serves as both a wilderness reserve and a memorial of the 26th president, who was the first to use his authority to protect wildlife and public land. Wander the peaceful trail, and journal about your Washington, D.C. experience on one of the quaint benches.