Summer is one of the most exciting times of year to explore a new place, but it comes with its challenges. The combination of crowds and heat make planning ahead even more important. Check out our top tips to keep cool on your next trip!
1) Pack light, pack smart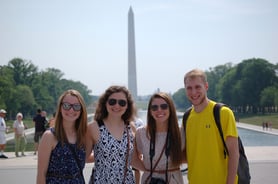 Before making your packing list, remember to look at your destination's weather forecast. On hot days, lightweight, loose-fitting, light-colored clothing is the way to go, deflecting sunlight and helping air circulate to keep you cool. Temperatures may drop at night, so even if you expect summer heat during the day, bring a sweater or jacket to layer in the evenings. Choose comfortable walking shoes so you can make the most of your activities.
2) Take cover
You will likely be outdoors for a large portion of the trip, so protect yourself from the dangers and discomfort of sun damage by packing sunglasses with UVA/UVB ratings of 100%, hats that cover your ears and shirts that cover your shoulders and neck. Make sure to apply and reapply sunblock every two hours throughout the day; the FDA recommends an SPF value of 15 or higher. If you are flying, keep in mind that TSA limits liquids to travel-sized containers no larger than 3.4 ounces per item. Buy smaller bottles of sunblock and put them in your resealable bag with other toiletries to abide by regulations.
3) Water, water everywhere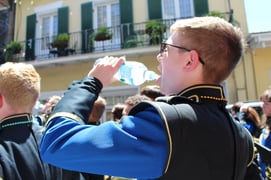 Hydration is key when fighting the summer swelter! Your body needs more water when you are in hot or dry climates, so refill your water bottle regularly to keep your energy up while sightseeing. At the airport, don't pay high prices for disposable plastic bottles — you can bring an empty water bottle with you through security.
4) Snack Attack
Eating throughout the day will help you fight fatigue and hunger pangs. Trail mix, granola bars and fruit are great options for portable snacks with long-lasting energy. Don't forget that you can bring food in your carry on! You may need to separate snacks from your other belongings at security, so keep them in containers that are easy to find and remove from your bag. Some countries place restrictions on what foods you can bring in, so check the rules for your destination if you are flying internationally.
5) Map it out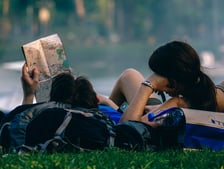 Visiting locations that are close together will help you save energy and spend more time enjoying your itinerary. Make a list of everything you want to see and do on your trip so you can group activities by day according to which sites are in close proximity. Don't tire yourself out by taking the long route; save your energy and fully appreciate the inspiring places places you're visiting.


6) Early to rise
Mornings are prime time for sightseeing as temperatures are milder and crowds are typically thinner early in the day. Planning outdoor activities for the morning can help avoid long lines and heat-related exhaustion. Set your alarms early to make the most of your trip!
7) Break it up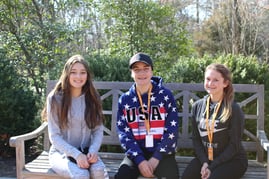 Water and snacks aren't the only ways to help keep your energy up throughout the day. After you finish sight-seeing in the morning, block off some time in the afternoon to rest. Consider leisurely indoor activities like going to a museum, strolling through a shaded park, or enjoying a long lunch at a local cafe. Rest and cooler temperatures in the evening will help everyone feel refreshed for dinner and the days to come!



Beat the heat this summer!