This Friday marks International Women's Day 2019, a day to celebrate the achievements of female leaders and everyday heroes. In 1987, over a century after the fight for women's suffrage began, "the month of March was officially designated by Congress for the celebration and acknowledgement of women's history." Since fewer than 10% of monuments nationwide represent women, we compiled a quick guide of women's memorials in cities across the U.S. to help you learn about and honor their achievements. From coast to coast, keep reading to see how a Brightspark student tour can help you celebrate the heroic efforts of courageous women.
Boston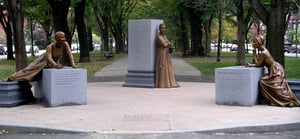 In 2003, three illustrious women were commemorated by the Boston Women's Memorial. The women aren't merely placed on their pedestals, but are seen leaning on them as a symbol of their compassion. Abigail Adams famously implored her husband John to "remember the ladies" when fighting for independence from Britain. One of the first women in Massachusetts to graduate from college, social reformer Lucy Stone helped found the The Woman's Journal, a successful weekly suffrage newspaper. Phillis Wheatly became the first African American (and the second American woman) to become a published poet with 1773's Poems on Various Subjects, Religious and Moral.
Chicago
While most know the story of Rosa Parks refusing to give up her seat in Montgomery, not many know that 71 years before, Ida B. Wells refused to give up her first class seat on a train in 1884. She was dragged off the train and would eventually sue the railroad for her treatment. Later that year, she won her case and was granted a $500 award. Though the Ida B. Wells-Barnett House in Chicago is a private residence, students can admire the home of this African American investigative journalist, educator, women's rights activist, and early leader in the Civil Rights movement who fought to end oppression and lynching.
Cleveland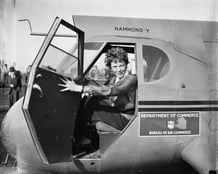 After soaring to death-defying heights at nearby Cedar Point, be sure to stop at the International Women's Air and Space Museum, where students can honor the women who took flight. One of the most compelling subjects is Amelia Earhart, the first woman to cross the Atlantic Ocean by airplane and the first person to fly over both the Atlantic and Pacific Oceans. While attempting a flight around the world, her plane vanished over the Pacific and has never been found.
Los Angeles
How fitting that this capital of American entertainment pays homage to Dorothy Buffum Chandler, an arts philanthropist. Part of The Music Center she fought to establish, the Dorothy Buffum Chandler Pavilion honors her "most impressive display of virtuoso money-raising and civic citizenship in the history of U.S. womanhood." Dorothy was a staunch supporter of the L.A. music industry, helping plan the Walt Disney Concert Hall and launching the "Save the Bowl" fundraising concerts to save the Hollywood Bowl. She also wanted to lift up other women, establishing an awards ceremony so her peers were "adequately recognized for their community service." For over 25 years, what became known as the Los Angeles Times Women of the Year awards were presented to over 200 women.
Memphis
In the birthplace of rock & roll, aspiring musician Jim Stewart convinced his sister, Estelle Axton, to move to Memphis and open a record shop and recording studio. Stax Records, founded by the white siblings in a blue-collar African American neighborhood, was one of the first studios in the "Jim Crow South" to welcome musicians of all races. While the studio was Jim's idea, Estelle is largely credited with pushing him into what became recognized as a distinctive Memphis sound: "raw and funky." Today, you can experience her legacy at the Stax Museum of American Soul Music, the only museum of its kind in the world.
Montgomery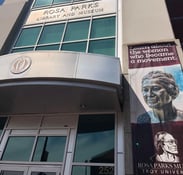 Along the Civil Rights Trail, students can get to know a number of everyday activists and heroes. At the Rosa Parks Museum, students can explore the "active memorial" to the Civil Rights icon and step into history at the "Cleveland Avenue Time Machine" exhibit, which contains the original bus where Rosa Parks refused to give up her seat. Students can also view her original arrest record, court documents, and other historic artifacts that chronicle the mid-century struggle for equal rights.

Nashville
Celebrating the day that Tennessee ratified the 19th amendment (giving women the right to vote), Nashville unveiled a monument in 2016 honoring five women who were directly involved in the struggle: Anne Dallas Dudley, Abby Crawford Milton, J. Frankie Pierce, Sue Shelton White and Carrie Chapman Catt. The Tennessee Woman Suffrage Monument features five larger-than-life bronze statues crafted by Alan Lequire to create a lasting memorial to the suffragists of Tennessee. Their efforts led a national fight for women's equality and the right to vote.
Bonus: Harry Burn, the last man to vote on the 19th amendment in the Tennessee House of Representatives, was going to vote "nay" until he received a note from his mother, Febb Ensminger Burn. She implored him to "be a good boy and help Mrs. Catt." At the last second, he voted "aye."
New Orleans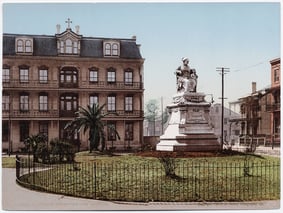 Commonly known as "Mother of the Orphans," Irish immigrant Margaret Haughery was orphaned at an early age. Years later, widowed and having lost her only child, she began working as a laundress at New Orleans' St. Charles Hotel. There, she was introduced to the Sisters of Charity and started volunteering her time and much of her earnings to orphans. Her desire to help children, and her resilience in the face of adversity, led her to open a number of new orphanages in the area. The Margaret Haughery Statue has stood in New Orleans' Lower Garden District since 1884, making her the second woman to have received a statue in her honor.
New York City
American social reformer, advocate, and charity worker of the late 1800s, Josephine Shaw Lowell started her volunteer service at the beginning of the Civil War, when she worked with the American Red Cross and joined the Women's Central Association of Relief, which provided aid to Union Soldiers. She became an influential author and advocate for children's and women's issues, focusing on the underprivileged population of Manhattan's Lower East Side and on improving conditions in women's correctional facilities and institutions for the mentally ill. In 1912, the Josephine Shaw Lowell Memorial Fountain was unveiled in Bryant Park.
Philadelphia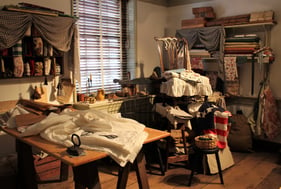 We can't celebrate American women without including the mythical creator of our country's first flag. Betsy Ross came from a long line of Quaker craftsmen. She widowed three times, but the skills she had learned as an apprentice — sewing mattresses, chair covers, and window blinds — helped her support herself and her seven children. Rumor has it General George Washington strode into her house brandishing a design for a new national flag. According to legend, Betsy changed his design to include "stars with five points (Washington had suggested six) because the cloth could be folded and cut out with a single snip." While the story of Betsy Ross sewing our first flag has been largely debunked, she did produce many flags throughout the revolution. Students can learn about Betsy and the colonial way of life at the Betsy Ross House in Philadelphia's historic Old City neighborhood.
San Francisco
Home to the symbolic Rosie the Riveter, "the star of a campaign aimed at recruiting female workers for defense industries during World War II," the Rosie the Riveter/WWII Home Front National Historic Park in Richmond, California, is only a short drive from the City by the Bay. The park's interactive activities let students get a closer look at life on the homefront during the Second World War, including changes to industry and how different social groups interacted. On "Rosie Fridays," your group can even get a firsthand account from a real-life World War 2 Home Front worker.
Washington, DC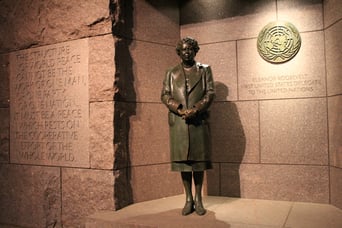 Nestled in the Franklin Delano Roosevelt Memorial along Washington, DC's Tidal Basin is an homage to First Lady Eleanor Roosevelt. With President Teddy Roosevelt as her uncle, Eleanor was no stranger to public service and leadership. By the age of 18, she "became actively involved with social reform work, serving as a volunteer teacher for impoverished immigrant children at Manhattan's Rivington Street Settlement House" and fought to "end unsafe working conditions and labor practices in factories and other businesses." During her 12 years in the White House, she became one of the country's most engaged first ladies. The bronze statue of her at the FDR memorial specifically honors her work with the United Nations, and she is the only First Lady included in a U.S. president's memorial or monument to date.
Do you want to celebrate women's history year-round?