Whether you take a snowy holiday vacation every year or escape the winter doldrums on a sun-soaked beach, the winter months are a prime time for travel. This chilly season, our team dives into the most popular reasons for winter trips and what makes each one an inspiring choice.
Keep reading for more tips to heat up your travel plans.
Sunny Retreats
Are you tired of cloudy skies and slushy sidewalks? Reset and get some vitamin D on a trip to a warmer climate! Costa Rica offers tropical waters and sunny skies, making it a perfect winter getaway. Since the dry season lasts from late November to early April, you can escape the colder months and experience great weather on your visit. Get moving outside as you hike up the Arenal Volcano, surrounded by lush vegetation and local wildlife. When you're ready to relax, head to the natural hot water springs at Ecotermales.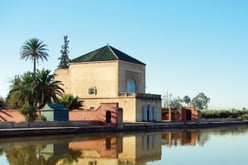 From Mediterranean waters to sandy dunes, Morocco offers warm escapes and rich culture. Start your journey on the coast as you explore colorful markets throughout the city of Tangier. Make your way to the mountainside city of Tétouan, and immerse yourself in the history of the ancient city. Walking through the white-washed buildings, you'll understand why it's called the "white dove." Travel inland to Marrakech and explore the imperial city's beautiful palaces under the desert sun. Be sure to pack layers when you go out after sundown as temperatures can drop at night!
Off- Season Travel Perks
While Portugal also offers sunny skies, its main wintertime draw is its lower tourism traffic. Visiting popular attractions such as Bélem Tower during the off-season will give you more transportation options and opportunities to explore. Portugal also features experiences specific to the the winter months: take a trip in November to catch the fall foliage or during the holidays to experience Lisbon's festive food and lively celebrations.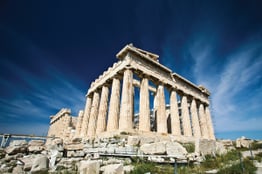 A wintertime trip to Greece is a sure way to cross famous sites, like the Parthenon in Athens, off your bucket list. Traveling during the holidays gives you the chance to truly immerse yourself in Greek culture with Apokries, a three-week carnival before Lent. The celebration is connected to the worship of Dionysus, god of theatre, and includes music, masks, costumes, and large parades.
Winter Wonderlands
If you welcome wintertime magic, consider relishing in France's festivities. Embrace holiday cheer with seasonal markets, sparkling decorations, and warm cafes in Paris. Winter temperatures vary across different regions of France, so be sure to check the forecast before you pack.
Back on this side of the pond, the old-world charm of Québec City makes for an enchanting holiday experience. Stop by wooden booths as you shop for artisan crafts and gifts for loved ones at a European-style Christmas Market. The holiday season is not the only time to enjoy charming winter celebrations – walk in a true winter wonderland at Québec's fantastic Carnaval. Since 1955, the festival has marked a time to come together and lift our spirits. Gather to watch magnificent parades, explore a life-size ice palace, admire snow sculpture contests, and cheer on teams in ice canoe races.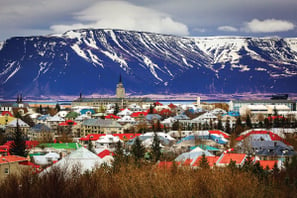 Can't get enough snow? Iceland is the place for you! Traveling to the Land of Fire and Ice during the winter offers once-in-a-lifetime experiences like seeing the northern lights, exploring seasonal glacial caves, and marveling at the distinct colors of icy waterfalls. To warm up after your snow-packed adventures, take a dip into the natural hot springs. The geothermal pools are cooled down by the surrounding ice, bringing the water to a perfect temperature.
No matter what draws you to winter travel, every destination inspires learning, exploration, and memories.
Cozy up to new travel plans this winter!