Have you ever wanted to take your music students on a trip but found the details overwhelming? When Choir Director Andrew decided to plan a trip to an iconic music city, he chose Brightspark Travel to help him cover everything on his list. We asked Andrew to shared his insights on his choir's travel experience in New York City and their upcoming trip to Nashville.
Keep reading to learn why he decided to plan a student trip, how he picked his destinations, and his experience with the Brightspark team.
What inspired you to start traveling with your students?
When I was in school, my band and choir directors were very much experience-driven educators. During my four years, I was fortunate to travel to Florida; Washington, DC; New York City; Tempe, AZ; and Pasadena, CA.
I knew if I became a high school music teacher, I wanted my students to be afforded similar opportunities. Those are the kinds of things they will remember long after they graduate.


What brought you to Brightspark?
My friend, Kris, started working for Brightspark, and I decided to try planning a trip with them when we were headed to New York City. She and all the folks I have worked with have been amazing!


How do you go about picking your travel destination? How important was Brightspark's ability to customize your trip?

The first trip I planned was based off an invitation we received to perform at Carnegie Hall. We have an upcoming trip to Nashville, and while deciding where to go, I sought a few different destinations with great performance opportunities and sightseeing. I always want one or two performance opportunities for my students, and I always want to see some of the city's sites and highlights.
Kris and Patty, my Brightspark team, have always been amazing at finding everything I desire and tweaking things when I want changes.


Did your group have any creative fundraising ideas, or did you face any struggles?
Last year for our New York City trip, some parents organized a coffeehouse open mic night fundraiser. All proceeds went toward the trip. One parent also solicited business donors; last year, we raised over $10,000 on that front. I do have some families that struggle financially. Luckily, for our New York City trip, a few community members contacted me about sponsoring students who needed some assistance. It was amazing.


What is an average experience like on tour?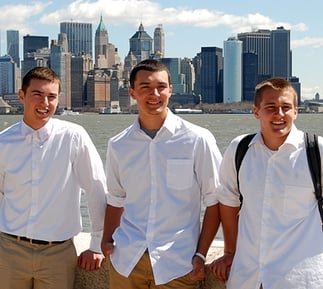 My groups have been quite varied: from 40 to 90 students. There is no average day-to-day experience on the road. The schedules I have for trips tend to be pretty packed, so each day brings a lot of variety. You cannot compare them all. I am excited for Nashville in spring 2020.


Can you describe the student experience from your perspective?
So many students told me that the trip to New York City was one of the best experiences of their lives. It was indescribable.


What advice would you give other directors considering planning a performance trip?
Plan early, stay on top of details, communicate often, do not be afraid to ask questions, and do not be afraid to seek exactly what you want (within reason) for your trip. I requested certain criteria for our Nashville trip, and Kris magically checked every box!
Customize your own performance trip!